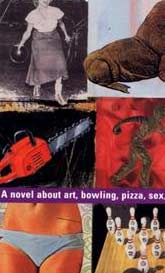 Author of Portrait of the Walrus as a Young Artist and other books
LAURIE FOOS received her MFA in Creative Writing from Brooklyn College in 1990. Her first novel, Ex Utero, had the fine luck of being saved from the slush pile and went on to be published by Coffee House Press in 1995 and in trade paper by Harvest/Harcourt in 1996. Ex Utero was published in the UK, Germany, France, Italy, Greece, and Spain and was adapted for the stage by a small theater company in Athens, GA. A novel about a woman who loses her uterus in a shopping mall, Ex Utero was chosen for "Plot of the Week" by Entertainment Weekly, and was awarded The San Diego Current's "Hot Tamale Award." The novel was also featured in The Los Angeles View's "Highlights of 1995."
Foos's second novel, Portrait of the Walrus by a Young Artist (subtitled "A Novel About Art, Bowling, Pizza Sex, and Hairspray"), was published in hardcover by Coffee House Press and in trade paper by Harvest Harcourt in 1997; it was also published in the UK and Germany (as Mach Mir Das Walross) that same year. Kirkus Reviews called it "A mad tale of a mad genius by a young author who may be a genius herself." Her third novel, Twinship, published by Harcourt Brace in September 1999, was published in Germany under the title Alter Ego. In 2002, Coffee House Press published Foos's novel Bingo Under the Crucifix.
In May 2005, Coffee House Press published Foos's fifth novel, Before Elvis There Was Nothing, and she gave birth to her first child, a daughter, that same month.
Foos's short fiction has appeared widely in literary magazines such as The Rake, Quarterly West, Gulf Coast, and in the anthologies Girls Just Want to Have Fun, Chick-Lit: Postfeminist Fiction and will appear in the forthcoming Wreckage of Reason: An Anthology of Contemporary XXperimental Prose. A recipient of fellowships from the Sewanee Writers Conference, Wesleyan University Writer's Conference, and the MacDowell Colony, Foos currently teaches in Lesley University's Low Residency MFA Program and lives on Long Island with her husband and two small children.